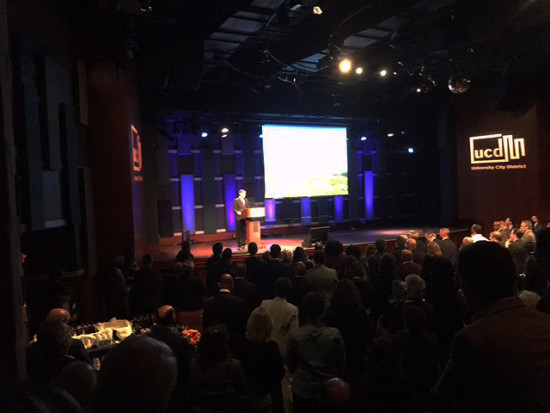 University City District (UCD) President Matt Bergheiser captured the mood of the moment during the annual The State of University City Report release event last night. There has been a 24 percent increase in food and beverage establishments in University City since 2009, according to the report.
"And to get through the next four years, we might need as many [beverage establishments] as we can get," Bergheiser said.
Officially released today, the glossy The State of University Report highlights the flurry of ongoing and soon-to-begin commercial and residential building projects, particularly along the Schuylkill River that we have reported on over the past year – like Schuylkill Yards, uCity Square as well as a heap of new academic buildings popping up.
Residential construction is outpacing all other uses, including office and "medical/biomedical." The number of "new and anticipated" multi-family housing units has nearly quadrupled since 2013, according to the report. But that includes projects like 4224 Baltimore, which has yet to see a shovel in the dirt.
About 53,000 people live in the University City District, an increase of 5,000 as compared to 2010. The number of students living in the area is up 17 percent since 2000. In that same time frame, the median home price has gone from about $90,000 to just under $350,000 last year. Median home prices were about $220 per square foot in Spruce Hill, while the other neighborhoods (Cedar Park, Garden Court, Walnut Hill and West Powelton) all were at about $175 per square foot.
The report also highlights the West Philadelphia Skills Initiative, which helps train unemployed West Philadelphians. Last year some 90 percent of its graduates found jobs after being unemployed for an average of about a year.
Some more numbers from this year's report:
• As everyone knows, "Eds and Meds" drives employment in this part of the city. Education and health care account for about 77 percent of jobs, according to the report. "Entertainment, Hospitality and Retail" is next at 8 percent.
• Office space continues to be filled at rates well above at those in the city and region. Vacancy rates in University City are below 5 percent, compared to more than 10 percent across the city and 15 percent in the region.
• University City workers use public transportation, walk and bike at rates double those of Philadelphia as a whole.
– Mike Lyons