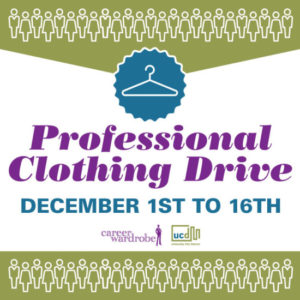 Here's a chance to do something kind during the holiday season for a person trying to get back into the workforce after being homeless, incarcerated, in rehabilitation or raising children.
The University City District (UCD) is collecting donations of professional apparel for men and women to benefit the awesome Philly non-profit Career Wardrobe. The clothing goes into one of Career Wardrobe's boutique where it is provided at no cost to people transitioning into the workforce to help them make a good impression at an interview. Career Wardrobe also offers skills building services. During the past fiscal year, Career Wardrobe outfitted more than 3,000 men and women.
Here's what they need:
Women's items:
Professional Apparel: Full Suits, Suit Separates (Blazers, Dress Pants, Skirts), Dresses, Blouses, Tops, Cardigans, Khakis)
Fashion/High-End Apparel: Tops, Denim, Dresses, Cardigans, Blouses, Dresses, Jackets.
Professional and Fashion Accessories: Handbags, Shoes, Scarves, and Jewelry
Men's items:
Professional Apparel: Dress Shirts, Suit Jackets, Dress Pants, Khakis
Professional Accessories: Ties, Belts, Dress Shoes, Pocket Squares
You can drop your items off at the UCD office at 3940 Chestnut St. on Monday through Friday from 8:30 a.m. to 5 p.m. through Dec. 16. All donations are tax deductible.
Career wardrobe asks that items are clean and in good condition. Bring your donations on hangers or in a shopping bag. You will also need to provide a donation receipt – download one here. If you aren't sure how much your stuff is worth, check out this pricing guideline.