Visitors / Employees
Businesses
Residents / Students
PHILADELPHIA BUSINESS JOURNAL • University City District bulks up West Philadelphia jobs program
Originally published at Philadelphia Business Journal
---
University City District bulks up West Philadelphia jobs program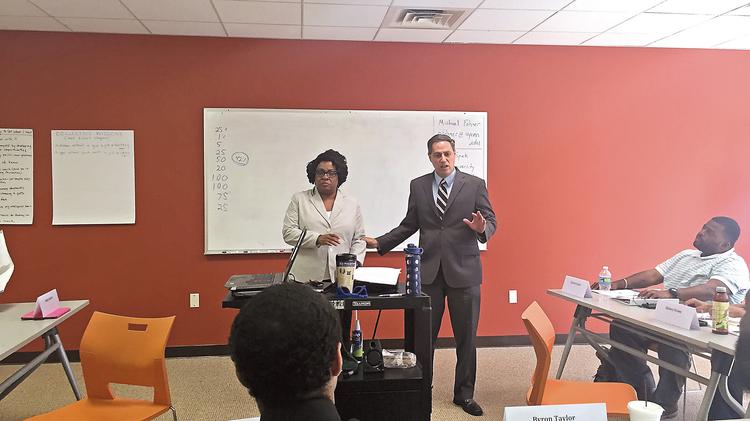 Sheila Ireland and Matt Bergheiser conducting a jobs training class.
Nearly six years after it established its West Philadelphia Skills Initiative, University City District has expanded the program into a new space and new areas.
It now occupies 5,000 square feet at 3801 Market St., having outgrown the roughly 2,000 square feet it had occupied at 47th and Chestnut streets.
The innovative program has what would seem a simple mission: Connect people who live in West Philadelphia to the institutions that make it one of the main employment centers in the city and region. The endeavor has the potential to have a long-lasting socioeconomic impact on the neighborhood.
About 31 percent of those who live in West Philadelphia are below the poverty level, and 45 percent of households have annual incomes below $25,000, according to UCD data. While the neighborhood is home to so many renowned colleges and educational institutions, few residents have college degrees and the community's unemployment rate is 15 percent. Most people who participate in UCD's workforce initiative have been unemployed on an average of 53 weeks.
"The community is bigger than we can fill," said Sheila Ireland, vice president of workforce solutions. While 5,300 people have applied to participate in the initiative, so far it has trained 500 people.
"That's a function of the jobs that were available and placing [people] in those jobs. No one goes through the program unless there's a job for them," said Matt Bergheiser, executive director at UCD. "It shows there's a huge demand and there are people who desperately want to work."
Of those that have completed the course, 92 percent have been placed in jobs. Of those who have become employed, 72 percent remain so after a year. "It's about employment partnerships," Bergheiser said
Those partnerships are one of the key features of the initiative. The organization maintains a database of entry-level jobs, tracking the needs at the institutions in University City, such as the Children's Hospital of Philadelphia, Penn Medicine and Drexel University, mapping where they are and the types of positions available, and working as a classic intermediary to match people up with those jobs. In all, UCD is building career pipelines to jobs that are in demand in the neighborhood.
No one shows up unready. Depending on the job and what the employer wants, a course could range from as little as four weeks to 24 for jobs that are more technical. They also learn what Ireland called "soft skills," which include job etiquette, showing up on time, wearing proper clothes, résumé writing and interviewing techniques, and, in some cases, learning how to get along with others.
"Many of the people who come to us have no practical experience and are not effectively connected to work," Ireland said. "We deal with the good, the bad and the ugly. It's about holding our standards high. Your job here is to get a job."
While the skills initiative has focused on linking residents to jobs in the medical and other institutions in University City, it has branched out into other areas. It has formed a partnership with Allied Barton, which has more than 600 security jobs at many of the facilities throughout the neighborhood.
After testing it out in a pilot program, UCD also started a landscaping business called Green City Works that seeks contracts at schools and other facilities. It had $300,000 in revenue in its first year and projected to more than double that to $650,000 for its next fiscal year.
It is also seeking to seize on the building boom underway in University City and how that can translate into employment opportunities, Bergheiser said. For the last four years, UCD has operated a program called "Project Rehab," where residents are taught carpentry skills and then fix up houses.
"It is small-scale residential repair work, but our philosophy and vision over time is that as the construction boom continues to accelerate, we can train people in neighborhoods who can participate in major construction projects. How we get there is going to be a long story."
NATALIE KOSTELNI