Visitors / Employees
Businesses
Residents / Students
University City District: New 60-foot parklet 'magnet for social activity'
Originally published by Philadelphia Business Journal
---
University City District: New 60-foot parklet 'magnet for social activity'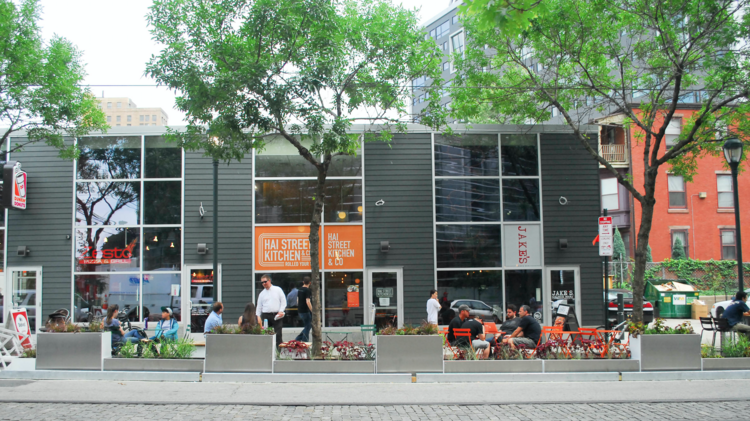 SHIFT DESIGN
Research by the University City District has found spaces like this 60-foot long parklet… more
If you ever wondered what a 60-foot long parklet might look like, check out the latest installment by University City District at 40th and Sansom streets.
The special services district teamed up with Shift Design to create a long and narrow parklet that fronts a new retail development.
It's as much a social experiment as it is a potential generator of business activity.
The parklet is essentially a temporary outdoor room, said Seth Budick, manager of policy and research at UCD.
"What we have seen in the past and what is really lovely about parklets is that they tend to be magnets for social activity," Budick said.
Located at 125 S. 40th St., the property was ideal for this type of temporary, seasonable seating area, added Nate Hommel, capital projects manager for UCD.
It has four restaurants that offer grab-and-go food and have little to no interior seating areas and no exterior cafe seating area. It's also in an area with high pedestrian traffic and the tenants were supportive the parklet.
UCD research has found that these spaces contribute to bringing more life to public spaces and can help increase sales to nearby retailers and restaurants.
While the 60-footer is experimental in length and the most expensive parklet so far, UCD has found from its work with previous parklets how to fashion them better.
Some lessons learned: keep them away from fire hydrants and fast-moving streets, the more greenery the better and incorporate some permanent seating, such as benches, which provide an alternative to the cafe chairs and tables.