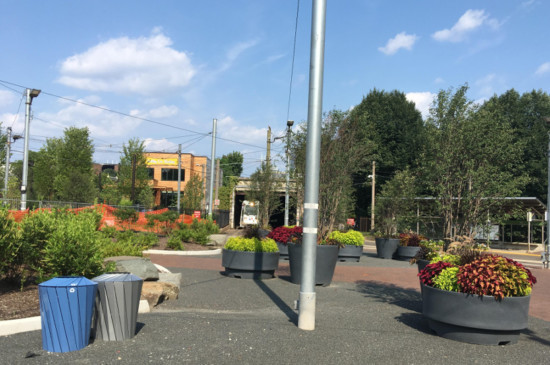 The 40th Street Trolley Portal makeover project, Trolley Portal Gardens, is nearly complete. The site is expected to be open and operational by next month. Neighbors are invited to celebrate the official grand opening of the Gardens, which will include a ribbon cutting, an open house, and light refreshments, on Thursday, Sept. 27 from 5-7 p.m.
In the past few months, new elements have been added to the site, including boulders, custom seats, trees, concrete pavers, and tree plaques, in addition to the raised mounds. New lighting poles and lights have also been installed. Trash and recycling containers have also been recently added, and before the space officially opens to the public it will be completed with tables and chairs. Also, Indego has moved their bike share station from Woodland Avenue to 40th and Baltimore.
The space is also home to the brand new two-story restaurant Trolley Car Station, set to open in the next few weeks.
The construction of Trolley Portal Gardens, which began last summer, is the culmination of years of fundraising and planning initiated by University City District to transform the 40th Street Trolley Portal into "a welcoming, inclusive neighborhood amenity."
Anyone is welcome to attend the grand opening event, but the organizers are asking to RSVP.
For more information, visit: www.universitycity.org/portalgardens.