Visitors / Employees
Businesses
Residents / Students
WEST PHILLY LOCAL • New 'parklets' pop up in West Philly
Originally published by West Philly Local
---
New 'parklets' pop up in West Philly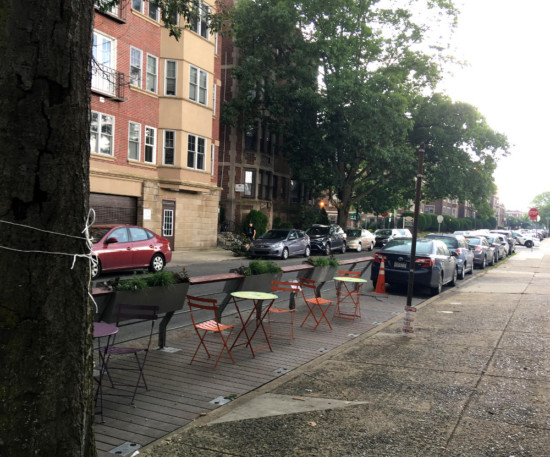 A new "parklet" was installed this week on Pine Street between 47th and 48th.
Two new "parklets"- temporary outdoor seating platforms where you can enjoy a meal, a drink or simply relax – have been installed by University City District crews. In addition to the returning locations at 4040 Locust St. (hosted by Ramen Bar), 261 S. 44th St. (hosted by Honest Tom's Tacos and Lil' Pop Shop), 4239 Baltimore Ave. (hosted by Green Line Cafe) and 4903 Catharine St (hosted by Little Baby's Ice Cream), check out the following new "parklets":
• 3601 Market (between Market and Filbert, hosted by Schmear It, Jimmy John's, and M.A.T.T.'s Sliders)
• 4725 Pine Street (hosted by the Garden Court Community Association)
"Parklets" usually stay through mid- to late November, as long as the weather is warm enough for outdoor seating. Just a reminder that you don't need to patronize a particular business to sit in the parklet.