Visitors / Employees
Businesses
Residents / Students
WEST PHILLY LOCAL • University City Dining Days kicks off this weekend with more deals and options
Wednesday, September 16, 2020
Originally published by West Philly Local
---
University City Dining Days kicks off this weekend with more deals and options
September 16, 2020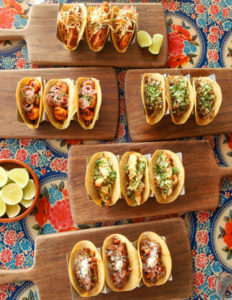 University City District (UCD) is launching University City Dining Days this weekend with new deals to showcase West Philly's diverse restaurant scene and a new meaning – to offer support to an industry severely impacted by COVID-19.
This year's Dining Days promotion will run from Saturday, Sept. 19 through Sunday, Oct. 4 and will feature not only the typical option of three courses for a set price, but also alternate deals including to-go cocktails, special add-ons, and takeout options, all perfect for picnics in the neighborhood's public spaces.
Nearly 30 restaurants are participating in this year's Dining Days, including returning participants like White Dog Cafe, Distrito (pictured), and Vientiane, and newcomers like Kusina Philly, Loco Pez, and Booker's. Participating restaurants offer choices for takeout, outdoor dining, or indoor dining, where applicable. Available options include three courses for a set price ($15, $25, or $35), free add-ons for orders over a certain price threshold, and deals on make-at-home kits and takeout beer and cocktails.
To kick off this year's Dining Days, UCD is inviting folks to Clark Park this Sunday, Sept. 20 for a socially distanced event. From 5-7 p.m., food lovers can enjoy their takeout from local restaurants at an outdoor dining area set up near the southwest corner of 43rd and Chester. Guests are encouraged to order takeout from local restaurants and enjoy giveaways from Ice Cave, plus energetic brass band music from Red Hot Ticket.
For a complete list of participating restaurants and specials, and to make reservations for outdoor or indoor dining, visit www.ucdiningdays.com. UCD has also put together an interactive map of local parks and public spaces for those seeking to enjoy takeout outdoors for the remainder of Dining Days.
And finally, check out this friendly reminder from UCD:
"Due to new rules and regulations, we are asking all diners to please be respectful and courteous customers. When visiting restaurants, please wear a mask, practice social distancing, and keep your hands clean. Help keep other diners and restaurant staff safe and healthy! If you or anyone in your party is experiencing symptoms, please stay home."